Gulab Jamun
I believe Gulab Jamun is the king of Indian desserts as it can be found anywhere and everywhere in India let it be a party or a bakery or even in an Indian thali. These soft and spongy jamuns (which look a lot like doughnut holes) soaked in sweet and delicious syrup melt right in your mouth leaving you craving for more.
This is definitely one of the most popular and loved desserts across India. I was even surprised when few of my non-Indian friends asked me to make the so called doughnut dessert for them. The gulab jamun mix / canned ones are readily available in most of the Indian stores but  nothing can beat the ones that are made from scratch. The recipe and the preparation is so simple that you can literally get them ready in the eleventh hour.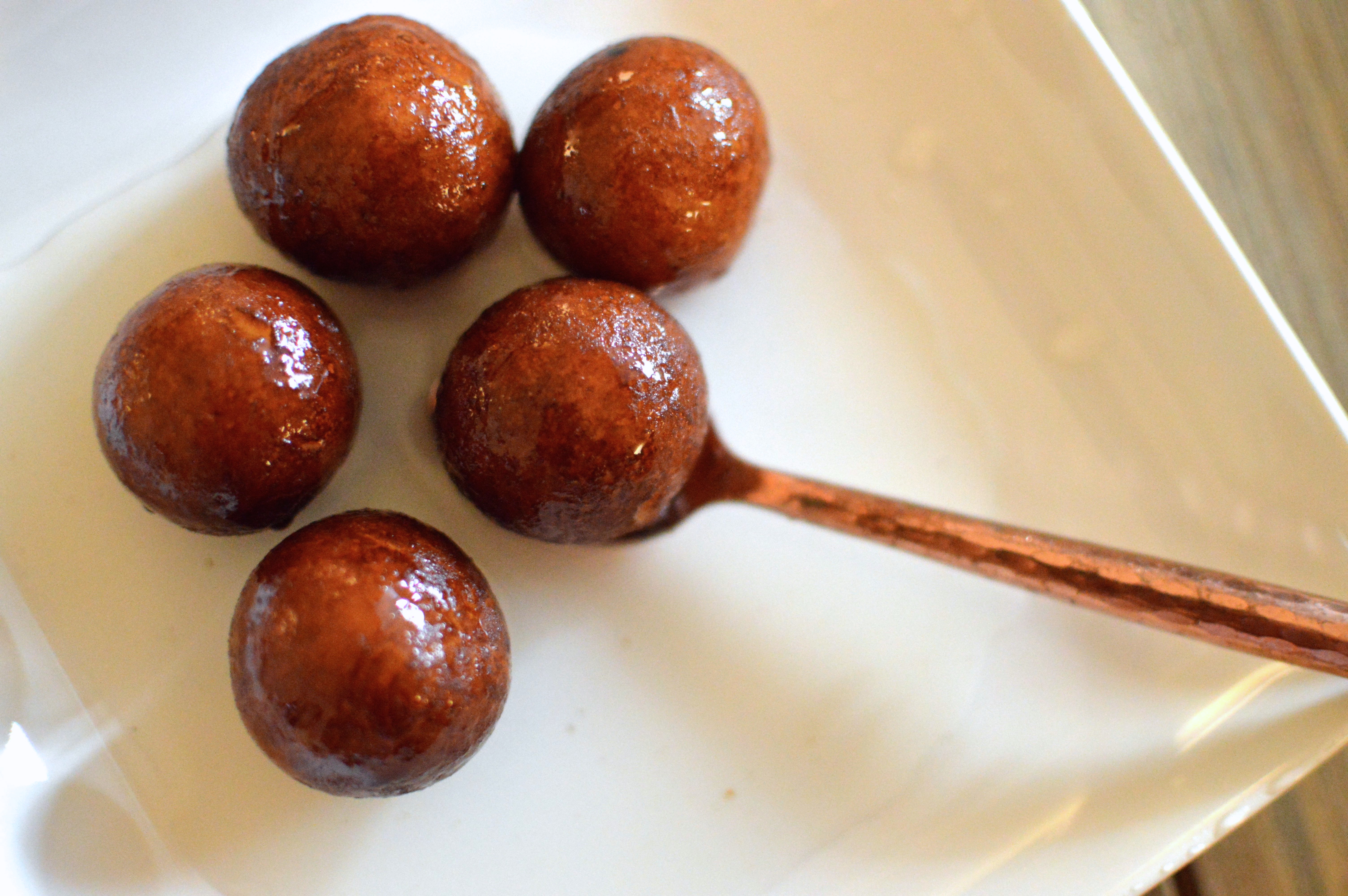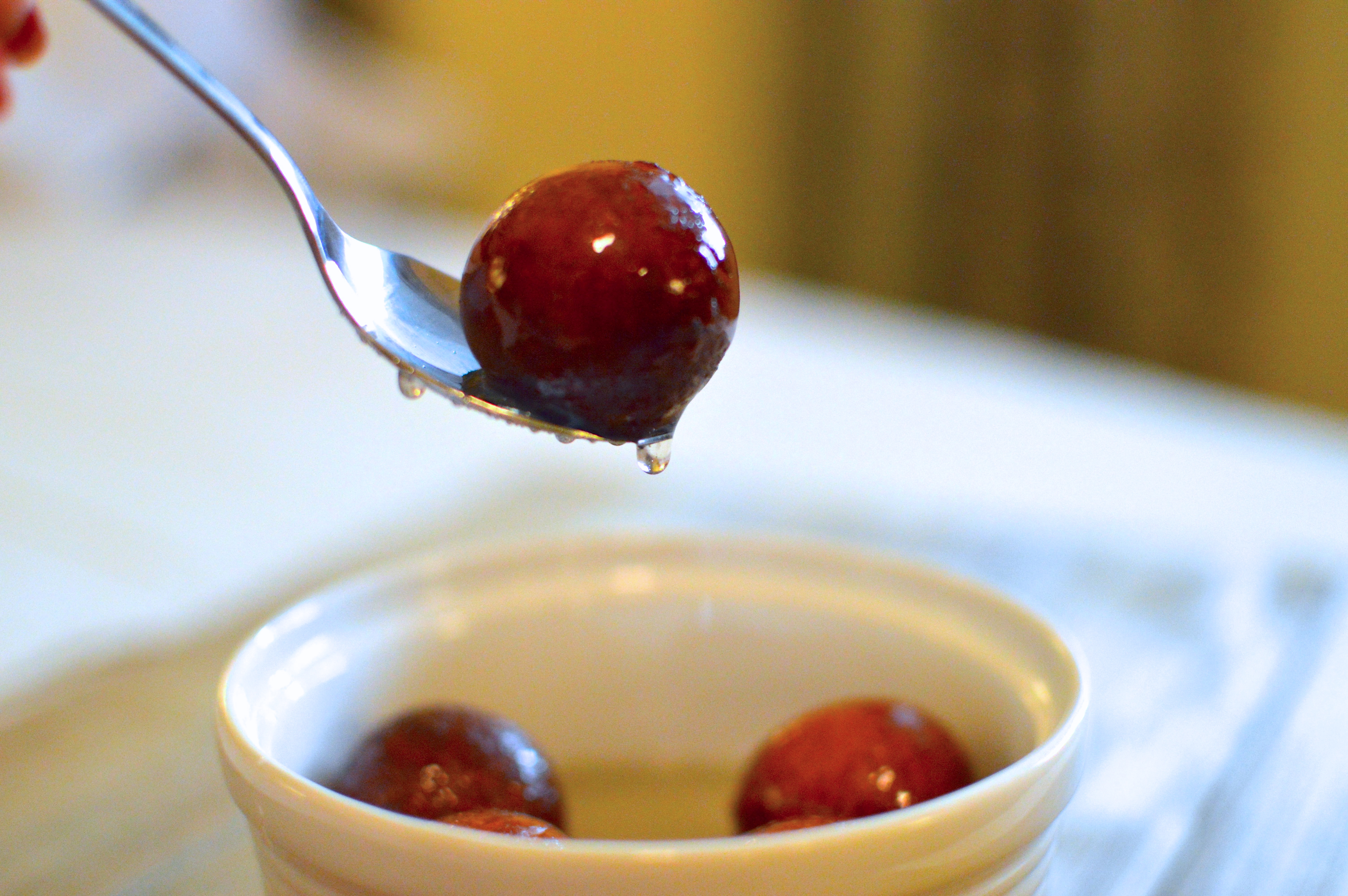 Here's what you need:
For jamun –
Milk powder – 1 cup
All purpose flour / Maida – ¼ cup
Heavy cream – ½ cup
Baking soda – a pinch
Ghee / Oil – 1 tsp
Cardamom (powdered) – ¼ tsp
Salt – a pinch (optional)
For sugar syrup –
Water – 2 cups
Sugar – 1½ cups
Cardamom (crushed or powdered) – 3-4 nos.
Saffron – few strands (optional)
Rose water – 1 tsp (optional)
Other ingredients –
Ghee / Oil – as required for frying
Pistachio / Almonds / Small rose petals – for garnishing (optional)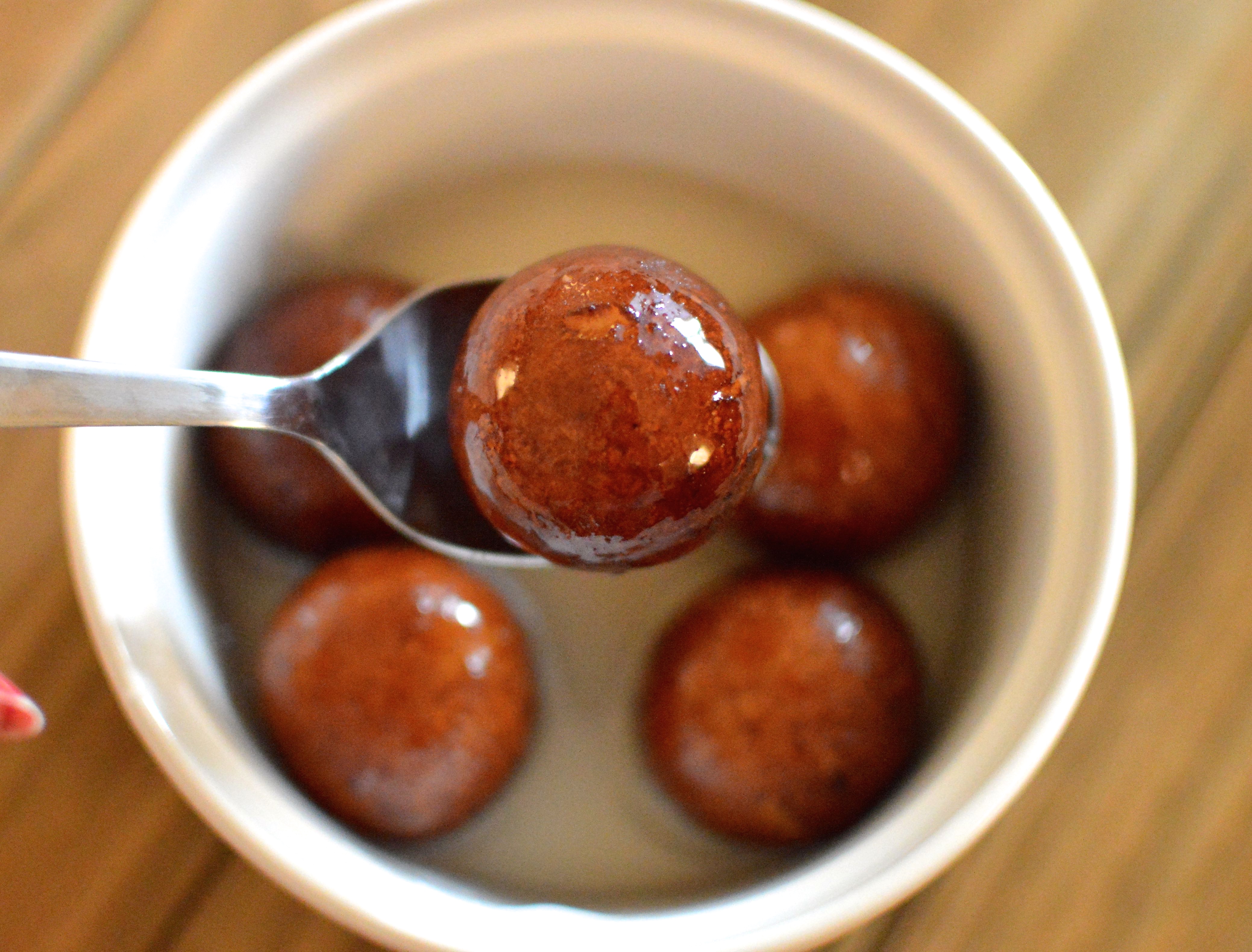 Directions:
Method to make sugar syrup –
Add sugar, water, cardamom, and saffron into a deep flat bottom pan
Boil it over medium high flame until you get a sticky syrup consistency
Remove from heat and keep it aside
Add rose water and stir (optional)
Method to make jamuns –
In a mixing bowl add milk powder, all purpose flour, baking soda, and cardamom
Add heavy cream as required and knead it into a soft and sticky dough (If the dough becomes too dry, add 1-2 tsp of milk)
Cover and set it aside for 10 minutes
Knead the dough again and divide it into 15-20 lemon sized balls (smooth and without cracks). Grease your palms with some ghee prior to rolling the balls.
Heat ghee / oil in a frying pan on medium heat. Add prepared dough balls and deep fry them until they turn light brown. Make sure you keep rolling the jamuns in order to cook them evenly on all sides
Drain and transfer the jamuns out of the pan and keep it aside
Allow the jamuns to cool for couple of minutes before dropping in the syrup (make sure the syrup is warm and not too hot)
Soak them for at least 1 hour before serving. You can serve the jamun topped with sugar syrup warm or chilled.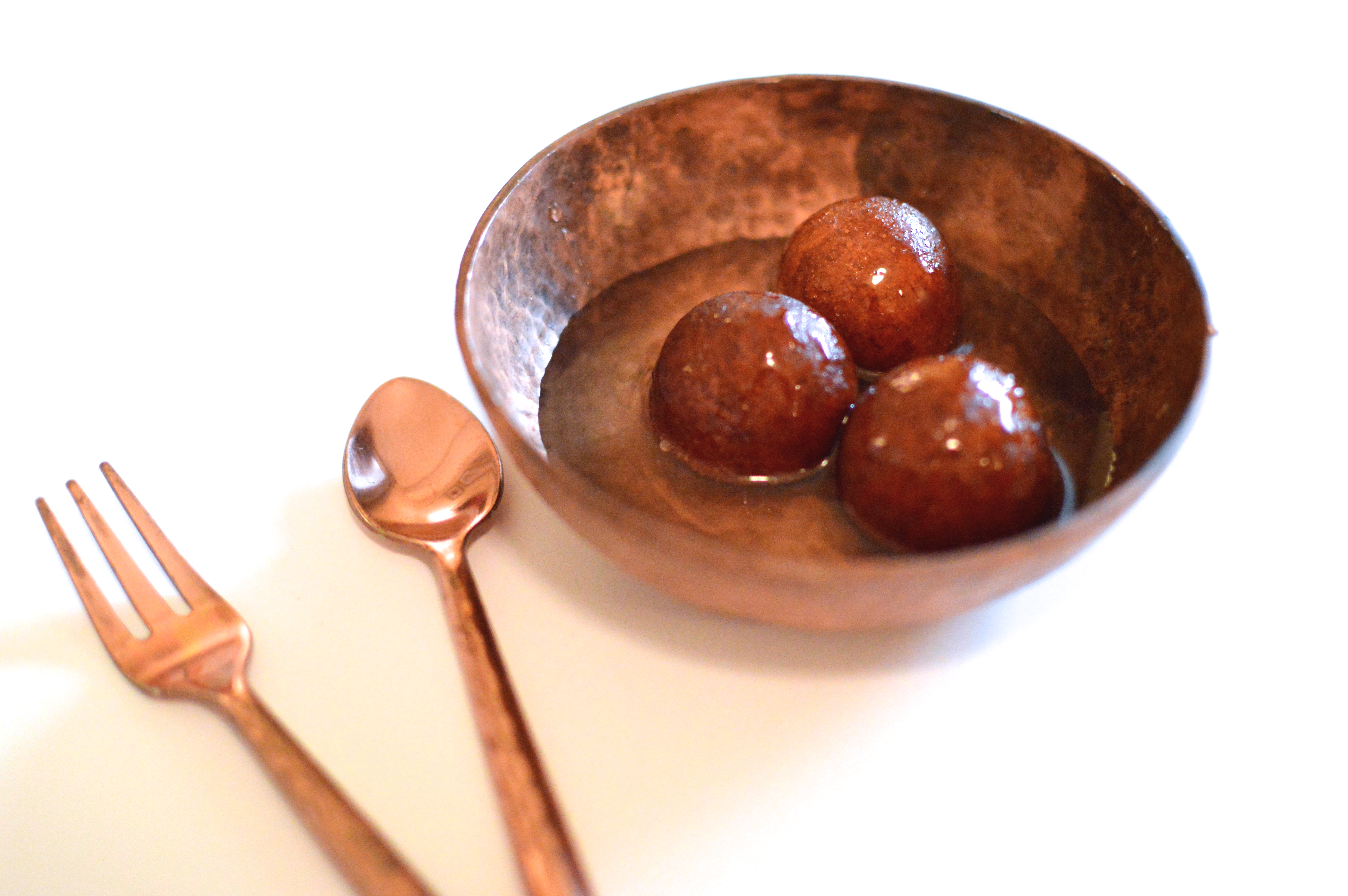 Notes:
Do not make very large balls as they will increase in size after deep frying and soaking in syrup.
Very important: Make sure that there is no crack on the surface of balls because it will make jamuns to rack open while deep frying
Jamuns will turn dark brown immediately if the temperature is too high. To lower the temperature add some cold ghee to it
Gulab jamuns will expand to double its size while frying so make sure to give them enough space in the pan
Do not place the fried jamuns immediately into the syrup else it might make them chewy
If the sugar syrup crystallizes while cooling add 2-3 Tbsp of water and warm the syrup again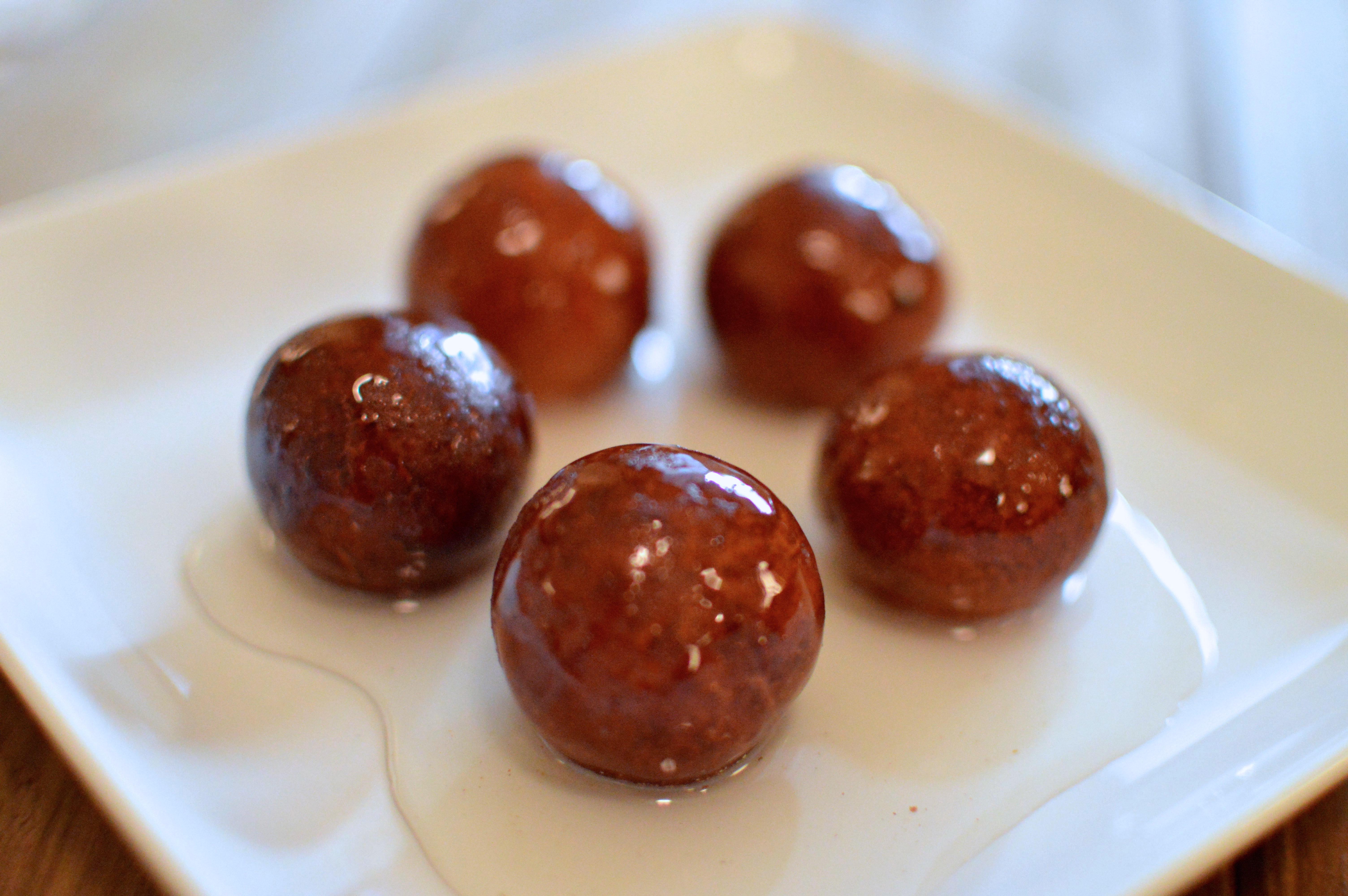 Happy cooking !! ♥♥