Malabar Style Athishaya Pathiri / Layered Chicken Crepes
Hope you all had a blessed and wonderful Eid with your friends and family. The first thing that comes to my mind thinking of Eid or any Muslim festival is a table full of mouth watering palaharams. Being a Malabari, I was lucky enough to try and indulge in all those yummy Mappila delicacies. And, growing up in Calicut I had some amazing friends who used to pack and bring us their mom-made snacks every other day.
Today if you ask me that is one cuisine I love the most and sadly is the one that I miss the most. Since, we don't have an authentic Malabari cuisine near to our place in U.S. the only option I have is to try recreating those memories. Athishaya Pathiri, like it's name says (Athishaya = surprise) is a wonder snack which looks like a cake but actually tastes like a meat pie/lasagne (with lots of flavors). This is a close cousin of Chatti Pathiri, which has a sweet filling instead of a meat one.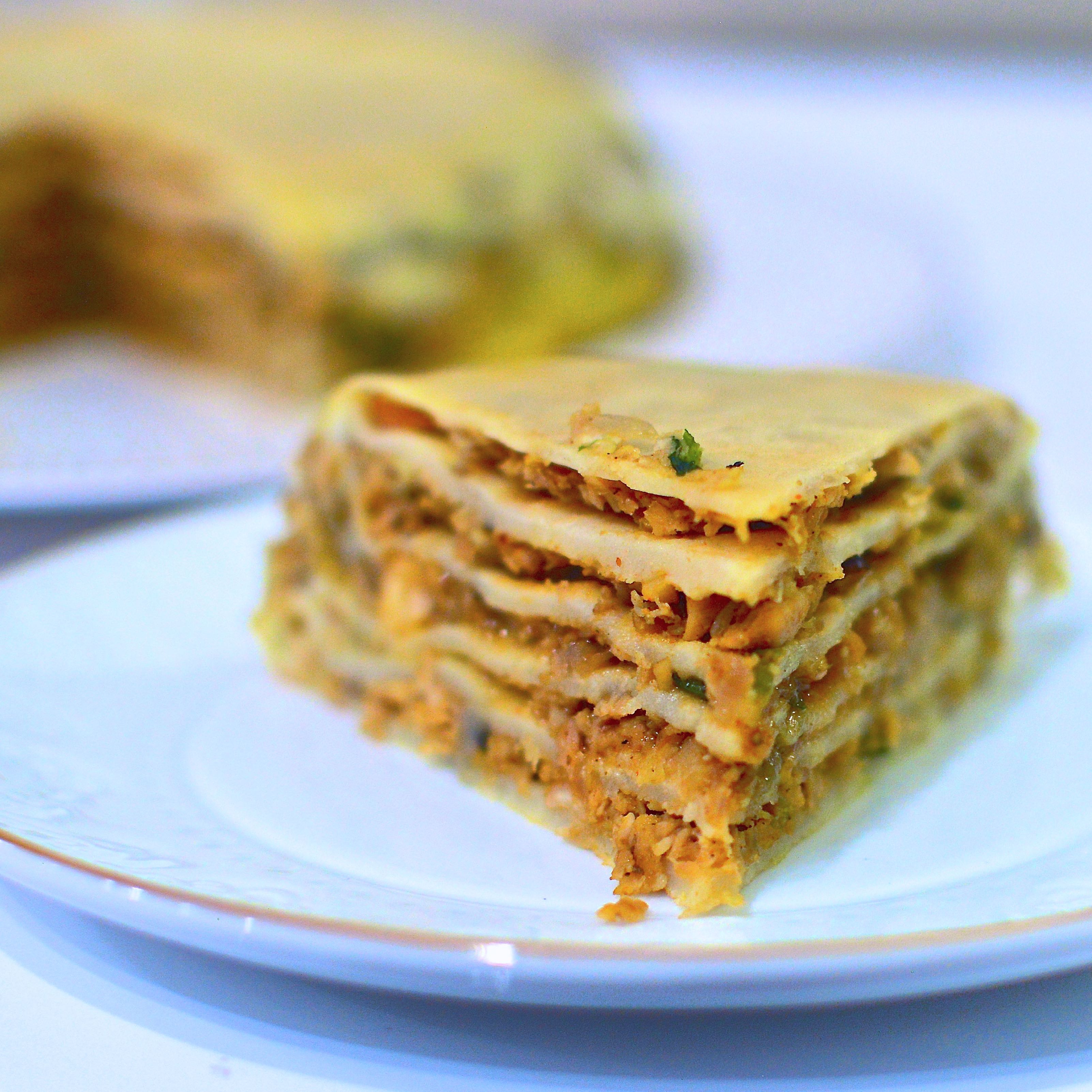 Here's what you need:
For filling:
Chicken (Boneless)- ½ pound (250 gm)
Onion (thinly sliced) – 1 large
Green Chillies (chopped) – 2
Coconut Oil – 1 Tbsp
Ginger Garlic paste – 1 tsp
Chilli powder – ½ tsp
Turmeric powder – ¼ tsp
Coriander powder – ½ tsp
Garam masala – ½ tsp
Black pepper powder – ½ tsp
Curry leaves (chopped) – 1 sprig
Salt as required
For Crepes:
All purpose flour (maida) – 1 cup
Egg – 1
Milk – ¾ cup
Salt to taste
Water as required
For Egg Mix:
Ghee/Oil – 2 tsp
Egg – 4nos
Salt as required
Crushed Pepper – ½ tsp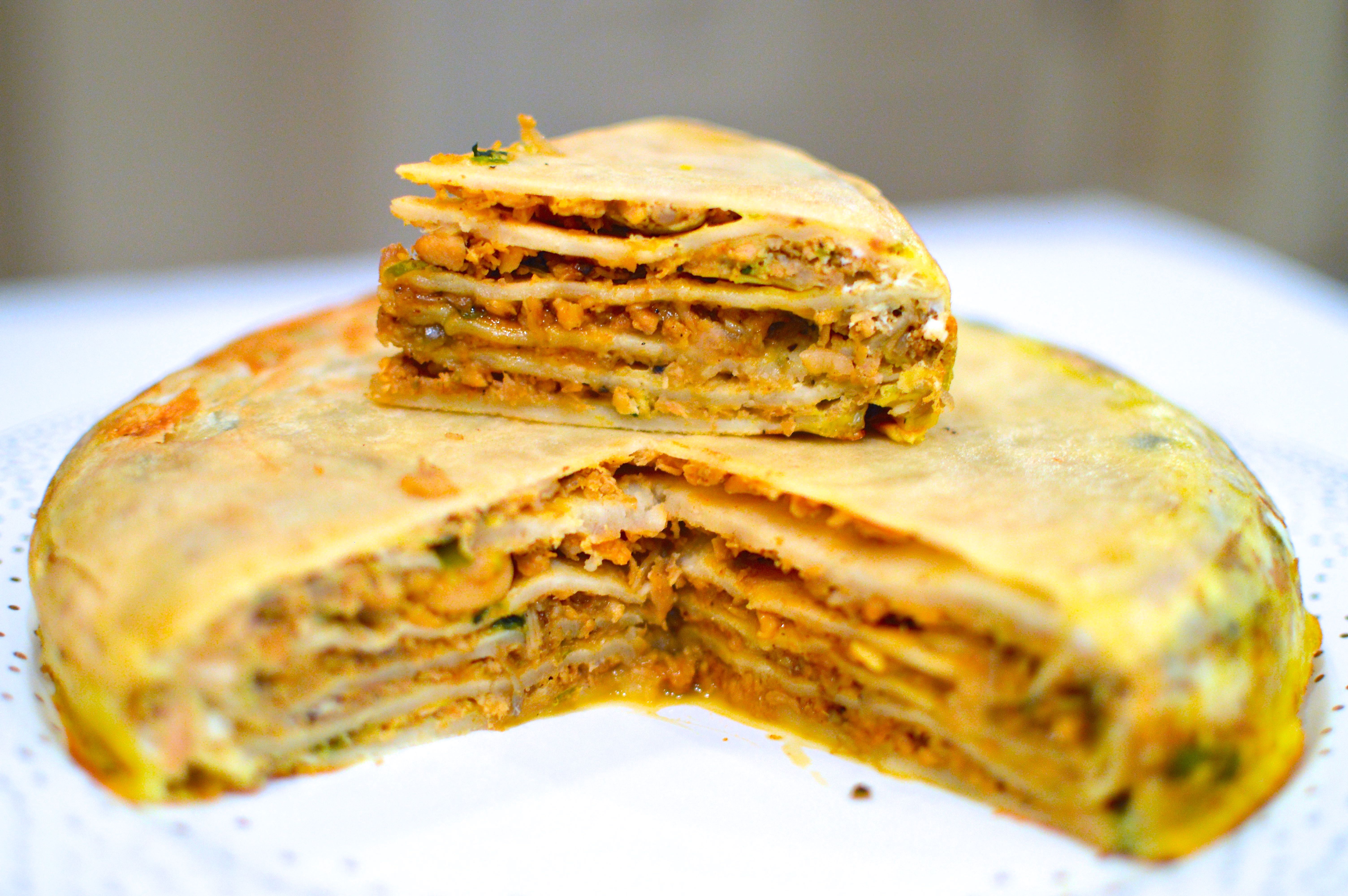 Directions:
For filling:
Add chilli powder, turmeric powder, coriander powder, garam masala, black pepper powder, ginger garlic paste (½ tsp) & salt into the chicken & cook/boil it in ½ cup of water until it's tender & all the water has evaporated.
Shred/Pulse the cooked chicken & set it aside
Heat a large saucepan with some coconut oil, saute chopped onions, chillies, remaining ginger-garlic paste, curry leaves & pinch of salt until it's transparent
Add the shredded chicken (from step 2) to the above mixture and sauté it for another 1-2 mins in low heat until it's all mixed together
For crepes:
Take a mixing bowl and add flour, egg, milk & salt and mix it well
Slowly add water (as required) to make the batter into thin consistency
Heat the pan, pour in the batter and make really thin crepes (do not flip)
Notes:
Make crepes without using any oil in the pan
Make sure you don't stack the crepes, otherwise it will stick together. Keep it separate on a flat surface
The above recipe should give 8-10 crepes
For Assembling:
Break 4 eggs in a bowl , add milk, salt, pepper and give it a whisk and keep it aside
Grease the saucepan with oil or ghee
Take one  crepe and dip it in the egg mixture (from step 1) and place it in the saucepan
Sprinkle some chicken masala on top of the above crepe
Dip the second crepe into the egg mix and lay on top of sprinkled chicken masala. Then sprinkle chicken masala on top of the crepe again. Repeat this process till the last crepe.
Pour the remaining egg mixture onto the top and sides of the crepes.
Cover and cook it in lowest flame for about 15 minutes.
In order to cook both the sides, flip the pathiri upside down and cook it in low flame for another 10 mins
Remove it from heat and serve it hot with a cup of chai or coffee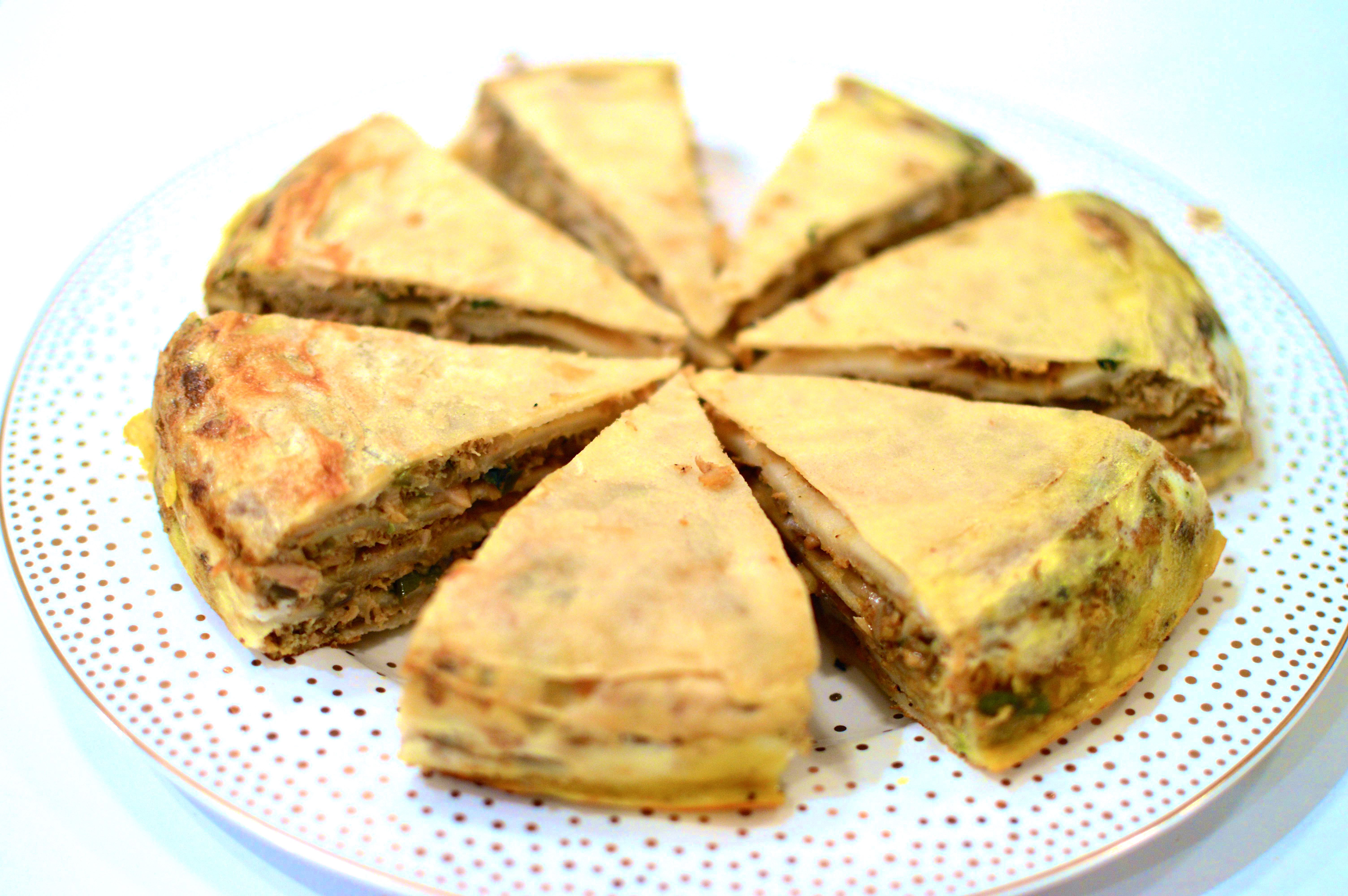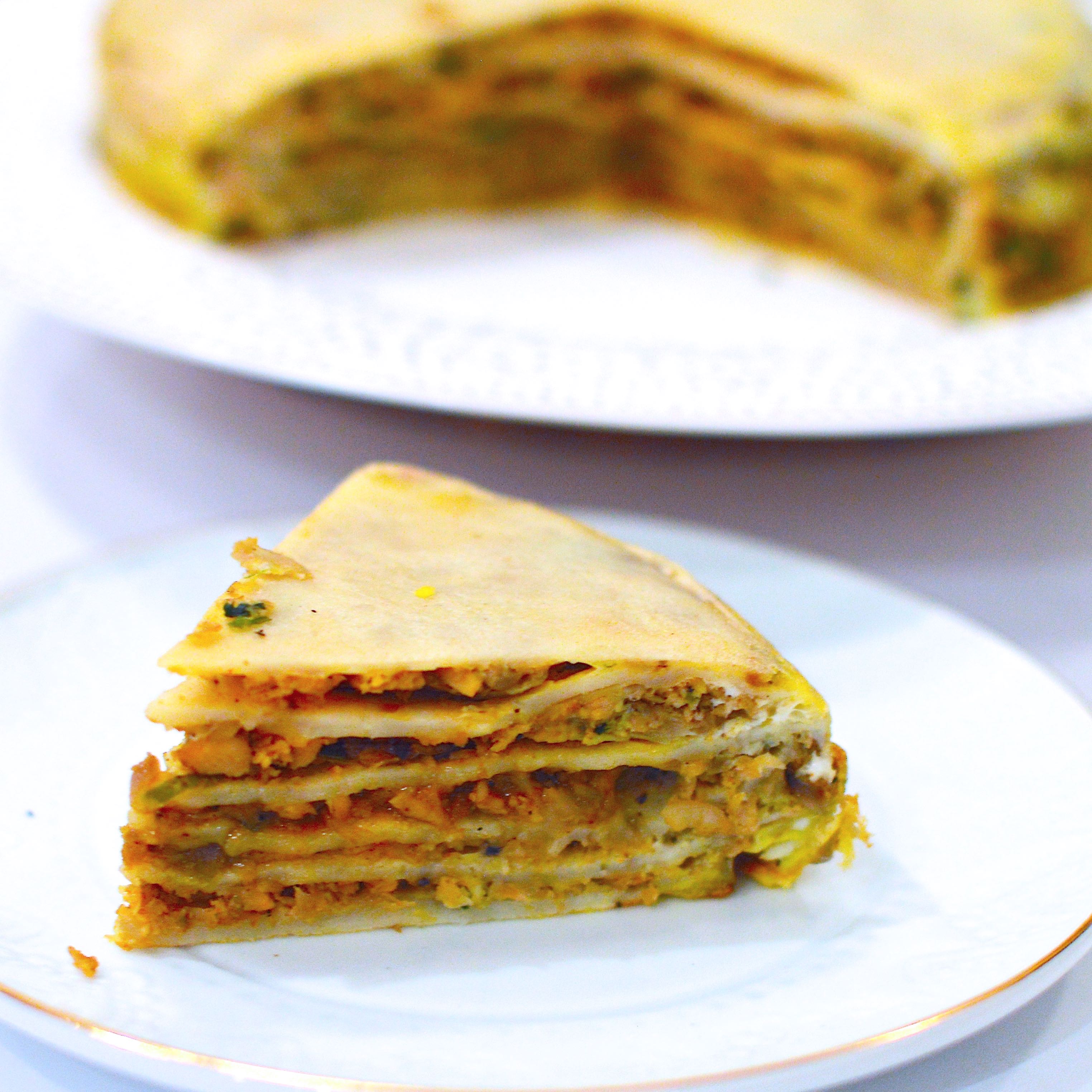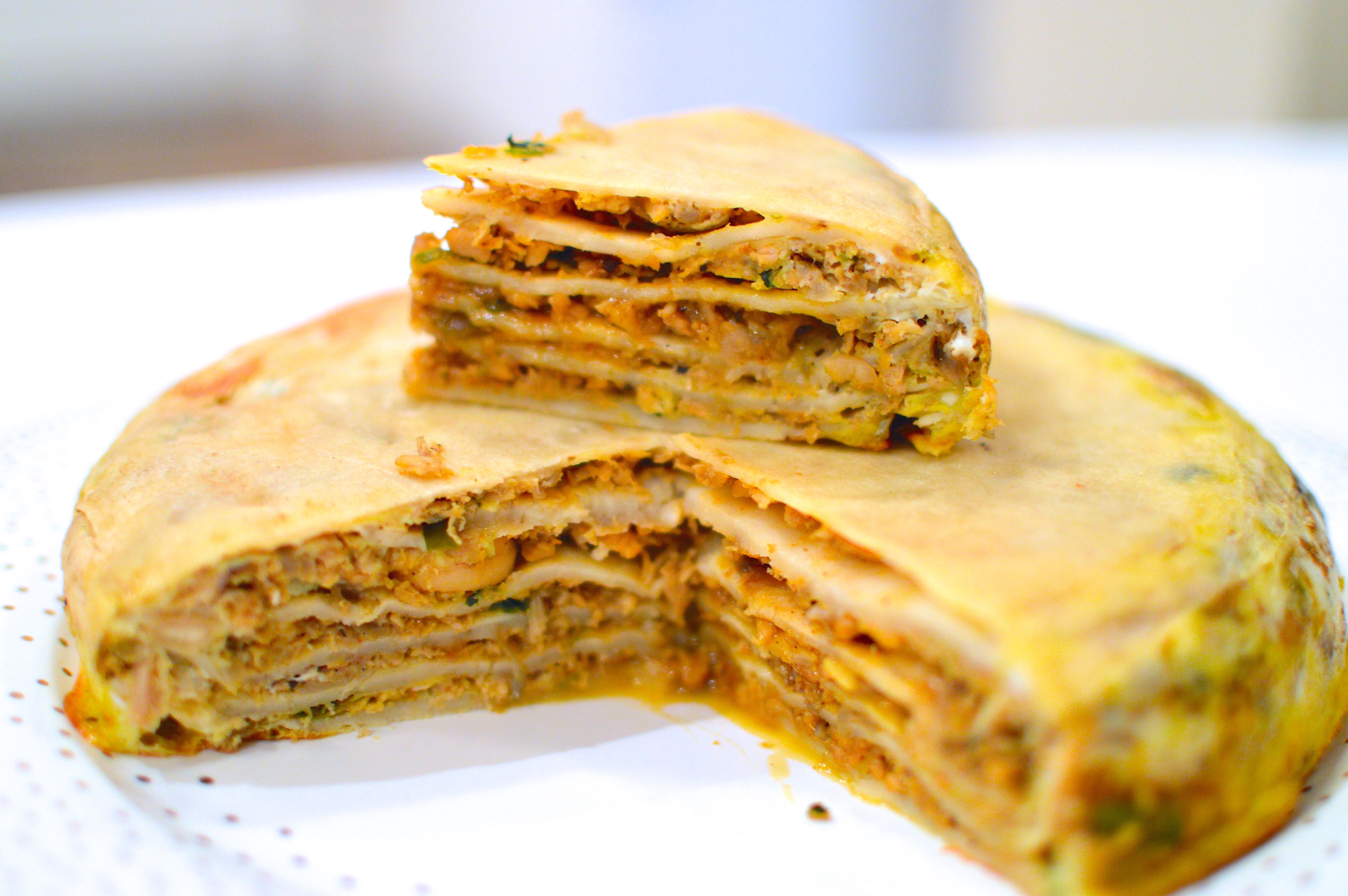 Happy cooking !! ♥♥